Monday, 4 April 2016
Autumn colors around Mecoras castle
Another view of Chautagne vineyards some months ago with beautiful colors around Mécoras castle.
Tuesday, 11 December 2012
Snow and sun on the french vineyard
I left home in the early morning under a white sky after a snowy night.
After a short walk in the deep fresh snow, i arrived in the vineyards. While i was trying to find some interesting points of view without leaving too much footprints in the landscape, the sun shortly popped through the clouds and lit the field with this beautiful light.
I just had the time to make 2 images of this scene : this one and a vertical version.
Publié par

Unknown
à l'adresse 01:30
1 commentaires

Sunday, 5 February 2012
Roussette vineyard in the snow
I started to make images of the french vineyard when i was living in Provence.
The first ones were done for wine producers and after that i did more and more of such photos and i know have a
great stock collection of images about grapes and vines
.
When i left Provence in 2010 i almost stopped to shoot vineyards but i live in an area where is done a special wine the
Roussette de Savoie
. So from time to time i take my camera and continue to grow the collection.
This image was done a few days ago at the beginning of the freezing cold whe know have.
Publié par

Unknown
à l'adresse 05:56
0 commentaires

Monday, 3 October 2011
Autumn dusk on Roussette vineyard - Haute Savoie
Roussette
is the name of a french white wine produced locally here around
Frangy
.
There are many vines fields in
the rural landscape around my home
and this image was done yesterday evening in the beautiful light of an autumn dusk.
The snowy mountain you can see in the background is the
Mont Blanc
which was the highest european mountain until some politics decided to change what Europe was.
I also have
a large photo gallery about the french vineyard
on my main website but most of the images where done in
Provence
.
Publié par

Unknown
à l'adresse 04:36
0 commentaires

Friday, 9 January 2009
Bastide in Provence vineyard
This 2 years old photo is one of my most poular and best selling image. It should be because it looks very typical.
Publié par

Unknown
à l'adresse 03:13
3 commentaires

Thursday, 16 October 2008
Autumn hdr landscape in the Provence vineyard
HDR from 3 exposure with 1 EV increment.
Don't forget do look at the
large view
.
And know, the other thing :
Usually i only write about photography on this blog. But sometimes i have to make some exceptions ...
For a little more than 1 year, i try to sell fine art prints of my job on
Etsy
. During this year i've only sold 3 prints. It's my worst selling place and i stay there for 2 reasons :
It makes a good publicity and it gave me many sales in other places.
Some other Etsy sellers are very friendly and chatting with them in the forums is always a pleasure.
So, last week i was tagged by
Jetty
and some weeks ago it was by
Estella
...
Tagging is a blogging game and here are the rules :
Link to your tagger and list these rules on your blog.
Share 7 facts about yourself on your blog, some random, some weird.
Tag 7 people at the end of your post by leaving theirnames as well as links to their blog.
Let them know they have been tagged by leaving a comment on their blog
7 things about me :
I'm an happy man living in a beautiful place with beautiful wife and daughter and i love my job.
I was a rock climber and spent some years chasing for cliffs around the Europe.
It looks like climbing was a important part of my life for a very long time : When i was less than 2 i climbed on the walls of my baby bed and broke my head :), when i was 12 i often climbed on the roof of the house to shoot sunsets etc...
Know i still have to find 3 other things to say.
I love many kinds of art. Photography of course but also painting and sculpture. I think i really discovered painting while many paintings photographs.
When my daughter was borned, a famous french painter offered us (her) a huge and beautiful painting. I think that's the most amazing piece of art i've ever owned.
I think i know why i've so many hearts and so few sales on Etsy. I'm really more expensive than the other photographers selling there and i some peoples still don't trust in inkjet printing. So i've decided that i will soon try to sell lab prints in my Etsy shop but for me they won't be really handmade and they won't be real fine art prints.
and the 7 victims :
Publié par

Unknown
à l'adresse 14:11
6 commentaires

Monday, 29 September 2008
Autumn colors in Provence vineyard
Last week, i spent many days with meeting clients in the Saint-Tropez area. Many times i had to drive along a little road threw the vienyards and the coming autumn reminded me this photo i took 3 years ago on the same road.
Large view here
.
Publié par

Unknown
à l'adresse 05:11
4 commentaires

Tuesday, 12 February 2008
Provence vineyard landscape
Some french winemakers have just bought two of my vines photos to decorate a big commercial show.
I often sell such images to the wine market but the unusual thing this time is the print size :
Each photo will be printed at 3x2m (118x79 inches).
Publié par

Unknown
à l'adresse 06:48
7 commentaires

Wednesday, 3 October 2007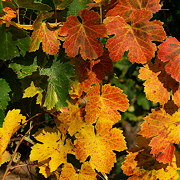 Around my village, there are forests and vineyards. I take many
vines photos that you can see on my french website
.
In september, i was hiking in "La Plaine des Maures" looking for a good place and waiting for the best place for some landscape photography when i discovered a big vineyard field like an oasis in this little desert.
Most of the vine's leaves were still green but some of them started to wear their autumn colors. So i spent some times playing with them and my camera.
The image in this post is my prefered from this day. I choose this square format because it features the most colorful leaves.